Organizations:
Agricultural

Manufacturing

Office

Strategic Interest
Projects:

Proposed

In Progress

Completed
Countries:
Brazil; Peru; Suriname; France; Colombia; Guyana; Bolivia; Venezuela; Ecuador
Cities:
Santa Cruz; Manaus; La Paz
PFAF ID:
HydroBasin Level:
Baseline Water Stress:

Water Quality Stress:

Sanitation Access Stress:

Click to view individual basin.
Location

Click Icon to Show on Map

City & Country

,

()
Project Overview
Located in Karnataka, the project consists in the construction of a 21MW wind farm in the district of Koppal. It is constructed to deliver renewable power to the Indian power grid. A total of 10 turbines are installed, each with an individual capacity of 2,100kW.
In total, the wind farm generates around 48,000 MWh of clean electricity every year.
Latest updates
Visit <% a.content_type | capitalize %>
<% a.name %> <% a.description %>
<% a.date %>
<% a.category %>
×
No current notifications are found for the projects, organizations, and other topics you are currently following.
| | |
| --- | --- |
| Basin and/or Contextual Conditions: | Other |
| Project Benefits: | Other |
| Indirect or Direct Beneficiaries: | Other utilities, Environmental users (e.g., fishers, recreational users), Local communities / domestic users |
| Months & Implementing: | More than 3 years |
| Financial Resources: | Between $50,000 - $100,000 USD |
| Primary Funding Source: | NGO / Civil society |
| Challenges: | Other |
Project Narrative
Gegenstand des vorliegenden Projektes in Karnataka sind der Bau und Betrieb eines 21-MW-Windparks im Distrikt Koppal. Die Anlage liefert sauberen Strom aus einer emissionsfreien Energiequelle und speist sie in das indische Stromnetz ein. Insgesamt arbeiten in dem Windpark 10 Turbinen mit einer Leistung von jeweils 2.1 MW, die zusammen rund 48.000 MWh sauberen Strom liefern. Basierend auf dem durchschnittlichen Pro-Kopf-Verbrauch in Indien produziert dieses Projekt damit genug Strom, um den Jahresbedarf von fast 60.000 Menschen zu decken.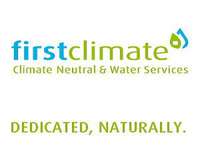 First Climate (Organization)
www.firstclimate-climateneutral.com
First Climate is a globally leading provider of water project development and carbon offset services. We help our corporate clients across Europe, Asia-Pacific and the US to get engaged in water stewardship activities and manage and compensate their carbon emissions. … Learn More
Discussion
No comments found - be the first to add yours below!
No comments found. Log in and add yours below!
Log in to add your comment!

Loading Matches