Organizations:
Agricultural

Manufacturing

Office

Strategic Interest
Projects:

Proposed

In Progress

Completed
Countries:
Brazil; Peru; Suriname; France; Colombia; Guyana; Bolivia; Venezuela; Ecuador
Cities:
Santa Cruz; Manaus; La Paz
PFAF ID:
HydroBasin Level:
Baseline Water Stress:

Water Quality Stress:

Sanitation Access Stress:

Click to view individual basin.
Location

Click Icon to Show on Map

City & Country

,

()
| | |
| --- | --- |
| Basin and/or Contextual Conditions: | PHYSICAL: Ecosystem vulnerability or degradation, PHYSICAL: Inadequate infrastructure |
| Project Benefits: | Raised awareness of challenges among water users |
| Indirect or Direct Beneficiaries: | Other utilities, Local communities / domestic users |
| Months & Implementing: | More than 3 years |
| Primary Funding Source: | NGO / Civil society |
| Challenges: | Other |
Project Narrative
The community provides land and the source of raw water to WHIN while the latter invests in and installs state of the art i.e. Ultra Violet (UV) and Reverse Osmosis (RO) based water purification systems. The safe drinking water is supplied to the consumers in specially designed containers which are sold to the local community for a nominal charge. Operational expenses and quality control checks are undertaken and borne by WHIN. Projects are undertaken on a Build, Operate and Transfer (BOT) basis for 10-20 years after which the centre is transferred fully to the community. WHIN's Decentralized Community Water Systems not only provide easy and affordable access to safe drinking water but also lead to employment generation for youth and women for operating the installation generating awareness about safe drinking water and other health issues through extensive hygiene campaigns in the local communities in which they operate. WHIN customizes the technical specifications of its installations based on local raw water quality to best suit the requirements of the community and adheres to nationally and internationally prescribed standards. With over 500 centres built in India since 2006, WHIN plans to build another 30 or more installations in the Bangalore area with revenue from WBCs over the next 7 years.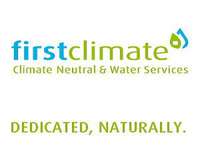 First Climate (Organization)
www.firstclimate-climateneutral.com
First Climate is a globally leading provider of water project development and carbon offset services. We help our corporate clients across Europe, Asia-Pacific and the US to get engaged in water stewardship activities and manage and compensate their carbon emissions. … Learn More
Discussion
No comments found - be the first to add yours below!
No comments found. Log in and add yours below!
Log in to add your comment!

Loading Matches