Organizations:

Agricultural

Manufacturing

Office

Strategic Interest
Projects:

Proposed

In Progress

Completed
Countries:
Brazil; Peru; Suriname; France; Colombia; Guyana; Bolivia; Venezuela; Ecuador
Cities:
Santa Cruz; Manaus; La Paz
PFAF ID:
HydroBasin Level:
Baseline Water Stress:

Water Quality Stress:

Sanitation Access Stress:

Click to view individual basin.
Location

Click Icon to Show on Map

City & Country

,

()
Organization Overview
Maithri Aquatech's mission is to produce potable water sustainably from thin air and serve a fundamental right to global societies.
Latest updates
Visit <% a.content_type | capitalize %>
<% a.name %> <% a.description %>
<% a.date %>
<% a.category %>
×
No current notifications are found for the projects, organizations, and other topics you are currently following.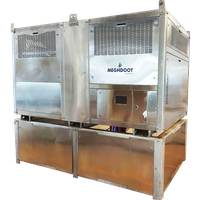 MEGHDOOT Water from Air Systems (Project)
Our company Maithri Aquatech has developed MEGHDOOT (which in Sanskrit means Messenger of the Clouds), an Atmospheric Water Generator which produces the purest form of potable water from the humidity present in the AIR! The water is also microbe-free and … Learn More

Loading Matches

Loading Trends