Organizations:

Agricultural

Manufacturing

Office

Strategic Interest
Projects:

Proposed

In Progress

Completed
Countries:
Brazil; Peru; Suriname; France; Colombia; Guyana; Bolivia; Venezuela; Ecuador
Cities:
Santa Cruz; Manaus; La Paz
PFAF ID:
HydroBasin Level:
Baseline Water Stress:

Water Quality Stress:

Sanitation Access Stress:

Click to view individual basin.
Location

Click Icon to Show on Map

City & Country

,

()
Project Overview
Develop a strong and effective learning program for green infraestructure co-designed by endusers to mainstream in drinking water sector of Colombia.
Project Results
Improved awareness of the relevance of green infraestructure for the sector.
Remove bottlenecks for investment
Strengthen capacity of key leaders, particularly women, to promote green infraestructure investments.
Latest updates
Visit <% a.content_type | capitalize %>
<% a.name %> <% a.description %>
<% a.date %>
<% a.category %>
×
No current notifications are found for the projects, organizations, and other topics you are currently following.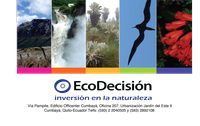 EcoDecisión (Organization)
About Us EcoDecision is an enterprise dedicated to developing new ways to fund biodiversity conservation and sustainable rural livelihoods. EcoDecision is a pioneer in developing financing mechanisms for ecosystem services including climate change mitigation, water source protection and biodiversity conservation. … Learn More
Discussion
No comments found - be the first to add yours below!
No comments found. Log in and add yours below!
Log in to add your comment!

Loading Matches