Organizations:
Agricultural

Manufacturing

Office

Strategic Interest
Projects:

Proposed

In Progress

Completed
Countries:
Brazil; Peru; Suriname; France; Colombia; Guyana; Bolivia; Venezuela; Ecuador
Cities:
Santa Cruz; Manaus; La Paz
PFAF ID:
HydroBasin Level:
Baseline Water Stress:

Water Quality Stress:

Sanitation Access Stress:

Click to view individual basin.
Location

Click Icon to Show on Map

City & Country

,

()
| | |
| --- | --- |
| Basin and/or Contextual Conditions: | PHYSICAL: Ecosystem vulnerability or degradation, Other |
| Project Benefits: | Raised awareness of challenges among water users |
| Indirect or Direct Beneficiaries: | Ecosystems, Local communities / domestic users |
| Months & Implementing: | More than 3 years |
| Primary Funding Source: | NGO / Civil society |
| Challenges: | Other |
Project Narrative
While focusing on reducing greenhouse gas emissions, all our projects also generate multiple co-benefits. These are supportive of the United Nations Sustainable Development Goals.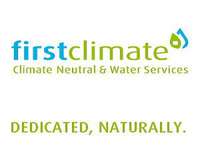 First Climate (Organization)
www.firstclimate-climateneutral.com
First Climate is a globally leading provider of water project development and carbon offset services. We help our corporate clients across Europe, Asia-Pacific and the US to get engaged in water stewardship activities and manage and compensate their carbon emissions. … Learn More
Discussion
No comments found - be the first to add yours below!
No comments found. Log in and add yours below!
Log in to add your comment!

Loading Matches