Organizations:
Agricultural

Manufacturing

Office

Strategic Interest
Projects:

Proposed

In Progress

Completed
Countries:
Brazil; Peru; Suriname; France; Colombia; Guyana; Bolivia; Venezuela; Ecuador
Cities:
Santa Cruz; Manaus; La Paz
PFAF ID:
HydroBasin Level:
Baseline Water Stress:

Water Quality Stress:

Sanitation Access Stress:

Click to view individual basin.
Location

Click Icon to Show on Map

City & Country

,

()
| | |
| --- | --- |
| Basin and/or Contextual Conditions: | PHYSICAL: Water scarcity or drought, PHYSICAL: Declining water quality, PHYSICAL: Inadequate infrastructure |
| Project Benefits: | Raised awareness of challenges among water users |
| Indirect or Direct Beneficiaries: | Environmental users (e.g., fishers, recreational users), Local communities / domestic users |
| Months & Implementing: | More than 3 years |
| Primary Funding Source: | NGO / Civil society |
| Challenges: | Other |
Project Narrative
Whave Solutions is working with District Local Governments in Uganda to develop a national program that focuses on the two goals of daily operational reliability of clean water and transformation of sanitation and hygiene. The program franchises local WASH micro-utilities to establish and maintain improved water sources and promote hygiene. The emphasis is on building a successful local businesses, and to do this, revenue from WBCs is used to pay the local WASH franchisees according to their performance in achieving the goals of reliable clean water supply, improved hygiene, and improved water quality in the home and at the source. The Safe Water Security program so far engages 220 communities in 5 districts in eastern and central Uganda, improving the livelihoods of over 60,000 people. Clean water supply reliability has risen to above 95% in all communities consistently, and hygiene levels are so far showing a 10% increase per year. With revenue from WBC sales, the program will expand to reach more communities in rural Uganda and acts as a model for replication in other countries.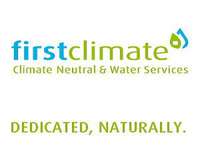 First Climate (Organization)
www.firstclimate-climateneutral.com
First Climate is a globally leading provider of water project development and carbon offset services. We help our corporate clients across Europe, Asia-Pacific and the US to get engaged in water stewardship activities and manage and compensate their carbon emissions. … Learn More
Discussion
No comments found - be the first to add yours below!
No comments found. Log in and add yours below!
Log in to add your comment!

Loading Matches