Organizations:
Agricultural

Manufacturing

Office

Strategic Interest
Projects:

Proposed

In Progress

Completed
Countries:
Brazil; Peru; Suriname; France; Colombia; Guyana; Bolivia; Venezuela; Ecuador
Cities:
Santa Cruz; Manaus; La Paz
PFAF ID:
HydroBasin Level:
Baseline Water Stress:

Water Quality Stress:

Sanitation Access Stress:

Click to view individual basin.
Location

Click Icon to Show on Map

City & Country

,

()
| | |
| --- | --- |
| Basin and/or Contextual Conditions: | PHYSICAL: Water scarcity or drought, Other |
| Project Benefits: | Other |
| Indirect or Direct Beneficiaries: | Manufacturers, Ecosystems, Agricultural growers, Other |
| Months & Implementing: | More than 3 years |
| Financial Resources: | More than $500,000 USD |
| Primary Funding Source: | Corporate funding |
Project Narrative
Los resultados sobre el impacto del uso de las aguas de producción tratadas, provenientes de la actividad petrolera en el Piedemonte Llanero en sistemas agropecuarios y forestales, permiten concluir que: No existen efectos adversos por el uso de aguas de producción tratadas en el riego de sistemas agrícolas y forestales (Palma, Caucho, Guadua, Pino, Gmelina, Eucalipto, Yopo y Acacia). El diámetro a la altura del pecho de las especies en estudio fue mayor al compararse con las referencias regionales, esto gracias al riego continuo. No se evidenciaron efectos perjudiciales por la irrigación de estas aguas en la calidad de los suelos, ni de las aguas superficiales y subterráneas. Estos resultados permiten concluir que el riego con aguas de producción tratadas no afectó las condiciones físicas, químicas del suelo. El uso de aguas de producción tratadas con fines de riego, no presenta riesgos por acumulación de metales pesados ni por el contenido de hidrocarburos. No se evidenciaron daños a nivel histológico en ningún tejido animal por el consumo de estas aguas por bovinos y aves de corral.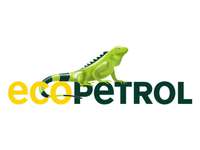 Ecopetrol (Organization)
www.ecopetrol.com.co/wps/portal/es
Ecopetrol, formerly known as Empresa Colombiana de Petróleos S.A. is the largest and primary petroleum company in Colombia. Learn More
Discussion
No comments found - be the first to add yours below!
No comments found. Log in and add yours below!
Log in to add your comment!

Loading Matches