JOIN THE BUSINESS ALLIANCE FOR WATER AND CLIMATE
---
What is the Business Alliance for Water and Climate?
Preparing for and adapting to new climate realities will be one of the defining challenges of the 21st Century. Recognizing the considerable environmental, social, and economic value at stake due to worsening water stress and climate change, the private sector - through the Business Alliance for Water and Climate's (BAFWAC) - key objectives are to:
Increase the number of companies committed to BAFWAC actions
Ensure broad uptake and action on improving water security from the private sector; and
Track progress from committed companies as to their progress on each of the three actions.
BAFWAC was jointly launched by CDP, CEO Water Mandate, SUEZ, and World Business Council for Sustainable Development (WBCSD) in December 2015. The initiative commits companies to analyze and report water-and-climate-related risks and impacts, and to implement collaborative response strategies along the value chain.
BAFWAC tracks and reports the progress of signatory companies vis-a-vis their commitments for COPs and by 2020 report on the total number of companies that committed to action. Presently roughly 50 international and leading companies have joined BAFWAC, with the core partners continuing to find ways to expand the initiative's signatory base and enable current signatories to take meaningful action.
---
Join other companies who have pledged their commitment
If you are ready to pledge your commitment to address global water and climate challenges, sign the declaration now. Use the form below to indicate executive leadership commitment to climate and water, and provide your company's logo to be added to the declaration. Include your contact information and use the optional fields to share details about existing projects and activities. You will receive a confirmation email with a link to complete the process.
---
Transform your commitment into positive action
There are many tools and resources available that can help you implement your commitment to water and climate action. The CEO Water Mandate's Water Stewardship Toolbox features a wide range of these tools developed by the Mandate and many others. It helps you identify what types of stewardship practices are most valuable and appropriate given your own unique circumstances and experience with water.
Visit the Water Stewardship Toolbox


The resources included in the Toolbox address each of the commitment areas addressed in the declaration. The Water Stewardship Progression - shown below - illustrates the various actions that water stewards pursue over time.
The Water Stewardship Progression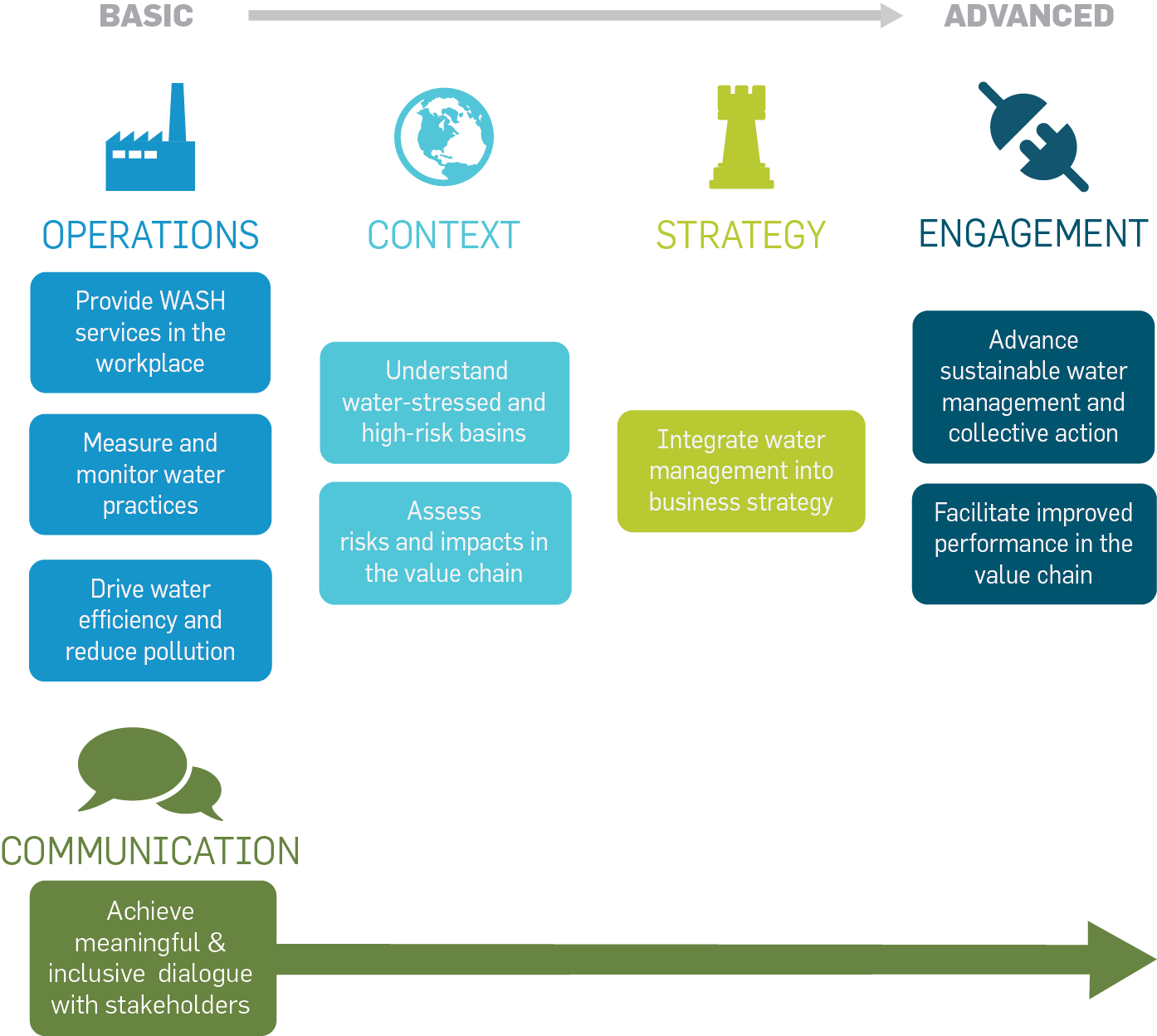 ---
Continue strengthening your commitment to water
While the declaration represents excellent first steps for corporate action on water, there is more to be done. Companies that endorse the CEO Water Mandate and report through CDP all commit to the level of action described in the declaration, and more. We are building an international movement of committed companies, both leaders and learners, that manage their water risks through conservation and collective action beyond their fenceline. Join our community of stewardship practitioners by implementing the following next steps.
NEXT STEPS

Join others who have made the commitment and endorse the CEO Water Mandate and its six elements.



Demonstrate your action on climate and water by reporting through CDP.


Engage with potential partners on the Water Action Hub to collaborate on water projects around the world.


Sign WBCSD's WASH at the Workplace pledge and commit to ensuring safe water, sanitation, and hygiene services for all your employees.